Votsalo Taverna Restaurant
Votsalo Restaurant Taverna Marathias Zakynthos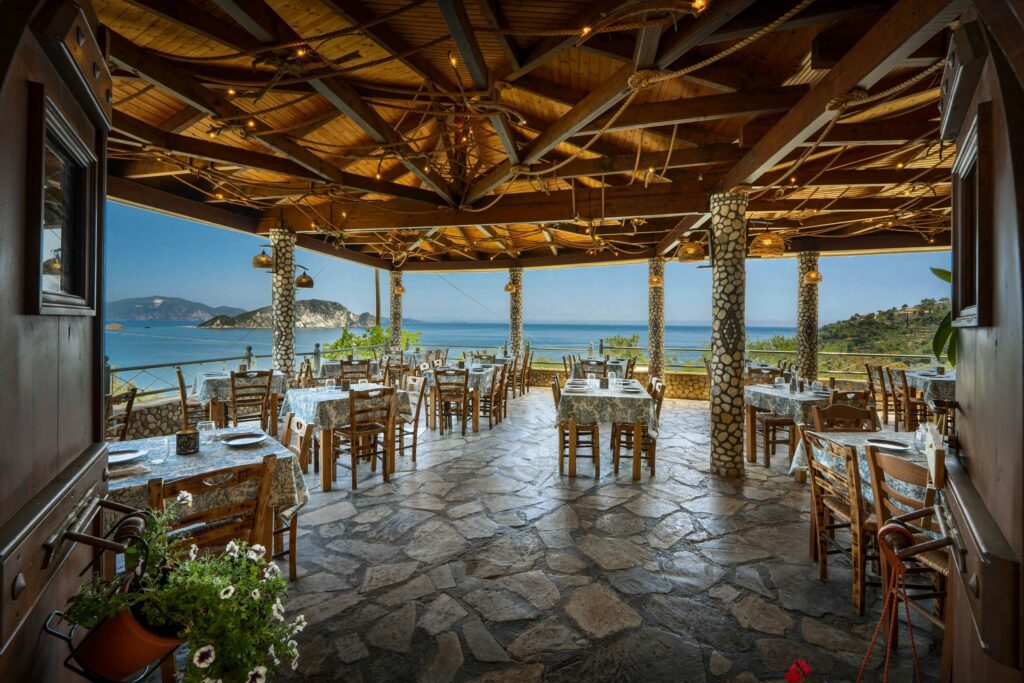 Located in the slopes of a lush green hill in Marathias area, Votsalo is a traditional tavern dating back to almost 40 years.
Today, fully renovated, redecorated but keeping ist most iconic feature, the pebbles, is the new gastronomy hot spot of Zakynthos Island! Its breathtaking view to Laganas Bay and the sea-turtle shaped islet of Marathonisi, combines unique ambient, homey atmosphere, kind service and a menu that celebrates the traditional Zakynthian cuisine with a contemporary approach.
We have a non smoking policy in our restaruarnt.
Votsalo Restaurant Taverna Marathias Zakynthos
Amazing place!
The food is absolutely amazing. Very delicious, big portions and good value for money. The view and atmosphere are also very nice. The staff is professional and friendly.
Worth the long ride
It's about a 30 min. drive from the city of Zakynthos... but the view over the bay of Laganas and the tasty food will reward you. Do make a reservation in advance if you want a front row table on the balcony. Staff are professional and friendly (finally someone who brought water for the dog on a particularly hot day without our asking!), menu card has a variety of options, portions are on the large side, as for the prices, you pay for what you get, so definitely value for money.
Great place!
Perfect place to enjoy some great food! It has nice views, too. We tried zuccini balls, grilled cheese, and salad in a bread bowl - everything was delicious.
Votsalo Restaurant Taverna Marathias Zakynthos